Adam Ezra Group
October 30, 2021, 8:00 PM

–

11:00 PM

$20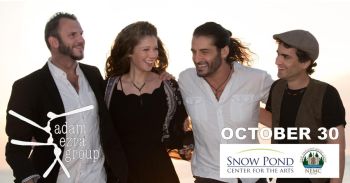 Hailing from Boston, Adam Ezra Group's unconventional approach to the music world has allowed them to surge beyond their beloved hometown and emerge as one of the most uniquely powerful, underground live music experiences in the country.
The fall of 2019 had AEG on more headlining tours supporting their 19th & 20th album releases and the latest in a series of enhanced, remixed, live albums, aptly named "Better Than Bootleg Vol 3″(Aug 24, 2019) and "Better Than Bootleg Vol 4" (Dec 27, 2019).
The musicians who make up Adam Ezra Group are all believers in the power of real-time connection with their audience, explaining their non-stop touring schedule throughout the year. Although their busy schedule was interrupted by COVID-19, AEG have managed to stay in touch with their fans through their nightly streaming concert series, "The Gathering", which is watched by thousands of people every single night. This is just another moment where AEG have shown how important it is to them to stay connected to people everywhere, no matter how far away they are.
Tickets: $20, general admission. Doors open at 7:00.