Coronavirus Alert: Due to concerns about the novel coronavirus (COVID-19) events may be cancelled or postponed on short notice. REM is not always notified of such changes. To confirm whether a listed event will proceed as scheduled, contact the event's organizer.
Author Event: Faith E. Worster
September 14, 2016, 6:00 PM

–

7:00 PM

Free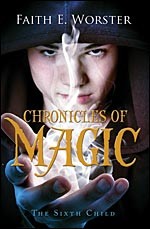 Faith E. Worster, author of Chronicles of Magic: The Sixth Child, will be visiting the Waterville Public Library. Copies of the book will be available for sale at the event. This fantasy novel is intended for ages 12 and up, but may appeal to any who enjoyed Eragon.
From the author's website :
Faith Worster has dreamed of publishing a novel since she was the wee age of thirteen– which, if you think about it, isn't that wee. At any rate, she lives to write, even if she has to do other things to survive… like eat, sleep, and (shudder) work. Actually, she loves her job(s). She must, because she has three of them! Aside from writing until her hand cramps up, Faith works as an Ed Tech, a DSP, and at a boarding kennel for cute little animals whose owners can actually afford to go on vacation somewhere.
Chronicles of Magic: The Sixth Child was inspired by Faith's love of fantasy and fun, as well as her own personal beliefs. Benjamin Burrow is thrust into the middle of a revolution much the same way all of us are thrust into life– cluelessly, and desperately hoping to come out with the least amount of sustained injuries as possible. He also learns, as many of us do, that there is more out there than what there initially seems to be: friends, foes… and something so much greater than what we ever dreamed.
For more information about Chronicles of Magic: the Sixth Child, please visit: http://faithworster.tateauthor.com/.
Location: Colby Program Room, Lower Level.