Coronavirus Alert: Due to concerns about the novel coronavirus (COVID-19) events may be cancelled or postponed on short notice. REM is not always notified of such changes. To confirm whether a listed event will proceed as scheduled, contact the event's organizer.
Frogs and Salamanders in Your Backyard
May 19, 2018, 1:00 PM

–

2:00 PM

Free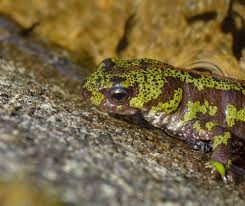 Join Cathy Bevier (Colby College) and Serena Sanborn (Waterville Creates!) to meet and learn about frogs and salamanders that you might encounter in local streams, ponds, gardens, and backyards. We will have a short presentation on the eighteen different amphibian species found in Maine, and activities to learn how to identify these.
Catherine Bevier is a Professor of Biology at Colby College. She earned her B.S. in Biology at Indiana University, and her Ph.D. in Ecology at the University of Connecticut. At Colby she offers courses including Animal Behavior, Comparative Vertebrate Anatomy, Evolution and Diversity, and Vertebrate Natural History, and her research program focuses on amphibians and lake ecosystems. Cathy is currently investigating sources of variation in vulnerability of frog species to the pathogenic chytrid fungus and the distribution and abundance of an introduced salamander in Maine, the Mudpuppy. She has also worked with a collaborative research group on the Belgrade Lakes Watershed Sustainability Project, and is collaborating on frog research in Brazil.
Location: Colby Program Room.
Part of Arts in Bloom! For more information on the rest of the free Arts in Bloom events on May 19, please visit https://www.facebook.com/events/355722651602929/.
The event is presented in part by the support of a grant from the Maine Community Fund, Cornerstones of Science, the Maine State Library, and Colby College.