Coronavirus Alert: Due to concerns about the novel coronavirus (COVID-19) events may be cancelled or postponed on short notice. REM is not always notified of such changes. To confirm whether a listed event will proceed as scheduled, contact the event's organizer.
Minecraft Night
Cancelled
September 24, 2016, 3:30 PM

–

5:30 PM

Free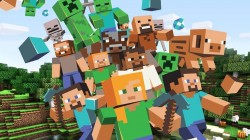 Rescheduled from AUGUST 6, 2016
Get together with other fans and play Minecraft after-hours at the library!

We will be using the library's computers and playing on a Realms server, so there are a limited number of slots. You will be able register by filling out this form, visiting the circulation desk, or by calling the library. Advance registration is required.

The intended age range for this event is 11-18 years old. After the event, all attendees under the age of 18 MUST remain in the library until they are picked up by a parent or guardian, unless we have been informed by said parent/guardian that it is all right for the teen to go home on their own.

This program is free, and open to the public. For more information, please call (207) 872-5433, or email staylor@watervillelibrary.org.

Facebook Event: https://www.facebook.com/events/1743570112546797/

Location:>Bartlett Room for Teens, First Floor.