Indie Author Day
October 8, 2016, 1:00 PM

–

2:00 PM

Free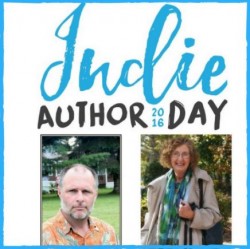 Bette Stevens, and Richard Wooten will be joining us for a book signing as part of Indie Author Day 2016!
During this inaugural Indie Author Day, libraries all across North America will host their own local author events with the support of the Indie Author Day team.
For more information about Indie Author Day, please visit: http://indieauthorday.com/.
About the Authors
Bette A Stevens
Inspired by nature and human nature, author Bette A. Stevens is a retired elementary and middle school teacher, a wife, mother of two and grandmother of five. Stevens lives in Central Maine with her husband on their 37-acre farmstead where she enjoys reading, writing, gardening, walking and reveling in the beauty of nature. She advocates for children and families, for childhood literacy and for the conservation of monarch butterflies—an endangered species (and for milkweed, the only plant that monarch caterpillars will eat).
Stevens is the author of Amazing Matilda, an award-winning picture book; The Tangram Zoo and Word Puzzles Too!, a home/school resource incorporating hands-on math and writing; and Pure Trash, the short story prequel to her debut novel, Dog Bone Soup, a Boomer's coming-of-age story set in 1950s and '60s New England. Find out more about the author and her books at http://viewauthor.at/BetteAStevens.
Richard H. Wooten
Richard H. Wooten was born in Washington State to a military family but spent his early years growing up on a farm in the Bluegrass Region of central Kentucky. He is a self-taught artist with a huge interest in history, culture, and art and is an avid follower of geology and archeology. He draws his inspiration from nature and the world at large. He is an eleven year resident of Maine and currently lives in Fairfield along with his wife and furry friends. He wrote the "Children of Eden" series and has a long line of future works in progress.
Live-Streamed Presentation
At 2:00, the Indie Author Day YouTube channel will be streaming a live presentation lead by industry leaders offering guidance and insight to local writers. You may watch the presentation from your home computer.
The video will also be available after the presentation is no longer live. Please visit http://indieauthorday.com/blog/streaming-at-a-library-near-you/ for more information.