5/17/2021 Update: As of May 24, 2021, COVID capacity restrictions and physical distancing requirements will be lifted, but those who are not fully vaccinated will still be strongly encouraged to wear masks indoors in public places. For the latest information, visit the State of Maine's COVID site.
Rise, Decline and Renewal: The Democratic Party in Maine
May 23, 2018, 4:00 PM

–

5:00 PM

Free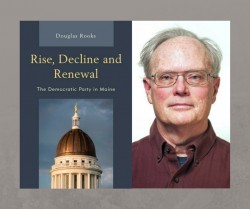 Rise, Decline and Renewal tells the remarkable story of the Maine Democratic Party – how it suddenly rose from irrelevance in 1954 with the election of Governor Ed Muskie, successfully challenged the ruling Republican Party over the next two decades, and initiated a creative period of wide-ranging reforms that produced a model government for a state long perceived as a cultural and economic backwater. Prosperity was clouded by leadership failures, however, then succeeded by political and institutional decline. The vision that had once galvanized Democrats faded, elected officials clung to power, and legislators failed to provide good representation for the citizens who'd empowered them. The final chapters describe how Maine's largest political party can again seize the initiative, energize a new generation of young people, and govern in the public interest once more.
As a journalist, Douglas Rooks served as editorial page editor for the Kennebec Journal in Augusta, editor and publisher of Maine Times; he has written about state government and politics for 33 years, earning numerous national and regional awards. His biography, Statesman: George Mitchell and the Art of the Possible, was published in 2016 by Down East Books.
A graduate magna cum laude of Colby College, he is former board president of the Unitarian Universalist Community Church, and lives with his wife in a 210-year-old farmhouse in West Gardiner. He is currently a local columnist for the Kennebec Journal and Morning Sentinel, is at work on a biography of a pioneering Franco jurist and politician, Albert Beliveau, and is a staff member for a Maine gubernatorial campaign.
This event is free, and open to the public. For more information, please call (207) 872-5433, or email librarian@watervillelibrary.org
Location: Colby Program Room.